We have ample experience in the execution and installation of paint chambers with robots, and other special equipment related to robotised painting. Painting robots are typically located within closed paint chambers equipped with adequate suction. Depending on the technology, this may be water-wall suction.
When setting up paint chambers, we check the movement of the product, the reach of the robotic arm, the painting pattern as well as the cycle time using simulation software in a 3D virtual environment before installation. This helps and speeds up on-site installation and robot programming to a great extent, and not least minimises the possibility of errors.
Our most frequently used painting technologies:
solvent-based painting,
water-based painting,
powder coating.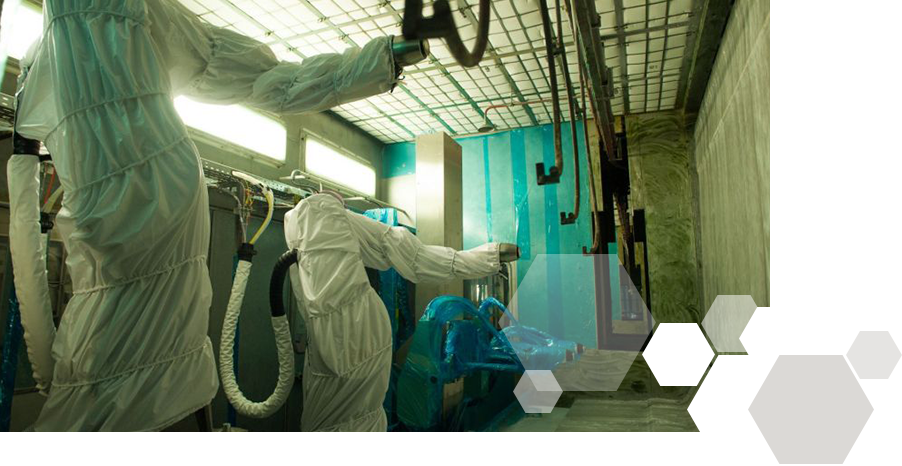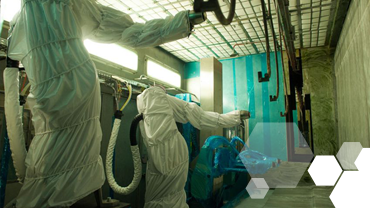 ---
The paint sprayer attached to the robotic arm is always specified based on the material to be sprayed, the technology to be applied and the task at hand. Common characteristics of the painting robots used by us are the hollow wrist, which enables guiding all necessary cables within the robotic arm, the explosion-proof system and the ATEX design.
Two-component painting and automatic colour changer units are more prevalent nowadays. They have the unarguable advantage of being able to make any number of colour changes for example on a conveyor type painting line without the need to stop the line, which is a great advantage and means fully automated operation for factories producing products with a high variety of colours. The product to be painted by the robotic arm arrives to the paint chambers on floor or overhead conveyors. The robotic arm is also able to paint progressing products by following the conveyor track, saving the investor time and money.